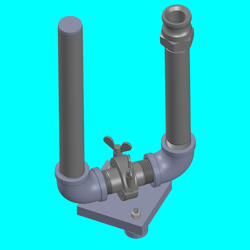 Slotted Pipe Skimmer
The slotted pipe skimmer can be used with any of our line of oil separators. It is also an ideal replacement skimmer for other non-Sentry sump side coalescers. The Smartskim's slotted pipe skimmer's non-hose design will not result in lost efficiencies over time, which is often the case with hose-based skimmers.
Magnetic base allows for the skimmer to be mounted to the bottom or the side walls of most coolant sumps, creating the ideal target level for the fluid skim.
The Slotted Pipe Skimmer is easily installed and requires minimal maintenance.
Stainless steel design maximizes equipment longevity.
Each skimmer is easily adjustable to skim off the surface.
| Materials | Process Temperature |
| --- | --- |
| 304 SS | Up to 2300°F (1260°C) |
Related Resources
Learn more about how the Slotted Pipe Skimmer can benefit your application with the following resources.
Browse All Resources
Explore more information on SmartSkim products and services in our Resource Library.
Need Something Else?
Review some other related products that could help your current application.